2012 Releases
THE ART OF KENT WILKENS

---
"Commanding View"
An inspiring view of Mt. Sinai from Jebel Katrina, 6 kilometers to the west. The artist and his 2nd oldest daughter travelled there
in 2009 to climb 4 mountains in 4 days. This view was accessed through a deep steep valley climing thousands of feet above the
valley floor. The ascent and descent was a total of 32 hours from one supply point to the next, the chief difficulty being the
ability to pack enough water, food and gear for that time frame, no sherpas, no camels, all on your own back climbing
broken granite during the day in 35 degree Celcius heat. Most will agree the trip was worth the trouble.

Across the top is the Ten Commandments in ancient Hebrew with English across the bottom.
Open Edition Print

giclee canvas edition 9"x24" $110

giclee canvas edition 12"x30" $175
giclee canvas edition 14"x36" $230

giclee canvas edition 15"x40" $275
giclee canvas edition 18"x48" $360
giclee canvas edition 22"x60" $475
---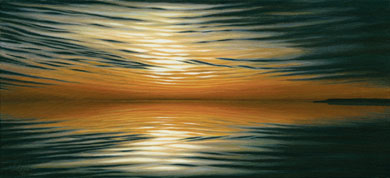 "Morning Glory" 250 s/n
A morning view from Big Bay towards Annan/Meaford, southern Georgian Bay

Image Size 12"x26" on paper unframed $230
on canvas unframed $290
Framed Size 22"x36" on paper framed $520
Framed Size 22"x36" on canvas framed $520
---
prices are in Canadian dollars

---
---
In Progress New Releases Originals
Sunsets Tobermory Historical Works Georgian Bay
Flowerpot Island Lighthouses The Chi-Cheemaun Fishing Tugs
Lion's Head The Holy Land Australia Sold Out Editions
---