2014 Releases
THE ART OF KENT WILKENS

---
"First Class Seating" 250 s/n
Image Size 6"x9" unframed $80
on canvas $110
Framed Size 13"x16" on canvas framed $199

After painting for 25 years it is sometimes difficult to come up with names for pieces, especially sunsets.
This one, was very easy.
---
"Lion's Head Sunset" 250 s/n
Image Size 9"x12" unframed $85
on canvas $135
Framed Size 18"x21" framed $245
framed canvas $245

A quiet sunset looking at Lion's Head Light looking north.
---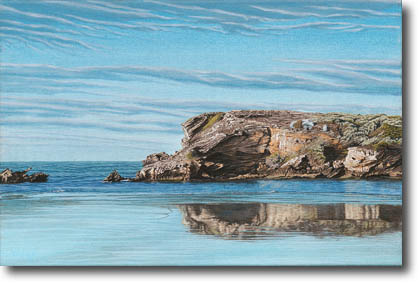 "Merri Island" 250 s/n

The smaller island where the Merri River meets the ocean at Stingray Bay, Warrnambool, Australia. My kids favourite swimming spot is just to the right.
A unique rockface with sandstone and the local vegetation giving texture and perspective. This is Rachael's hometown.
Image Size 12"x18" on paper unframed $170
on canvas unframed $210
Framed Size 20"x26" on canvas framed $370
Framed Size 22"x28" on paper framed $390
Framed Size 22"x28" on canvas framed $390
---
---
prices are in Canadian dollars

---
---
In Progress New Releases Originals
Sunsets Tobermory Historical Works Georgian Bay
Flowerpot Island Lighthouses The Chi-Cheemaun Fishing Tugs
Lion's Head The Holy Land Australia Sold Out Editions
---