THE ART OF KENT WILKENS
---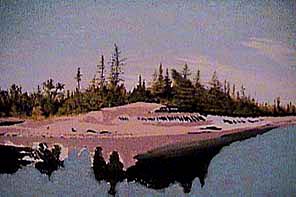 Initial layup and base coats almost finished
"Pot Crook" 250 s/n
Image Size 6"x9" unframed $120
on canvas $170
Framed Size 13"x16" on canvas framed $275
Having known this particular rock formation since a very young age, it was only a matter of time before the artist put it to canvas.
"Pot Crook" is at the entrance to a little inlet off Hay Bay, known locally as "Pot Crook".
The uniqueness of this glacially carved rock allows it to stand out in an area teeming with interesting rock formations.
---
ORDERING INFO KentWilkens@aol.com 1-800-449-5921

prices are in Canadian dollars

---
---
In Progress New Releases Originals
Sunsets Tobermory Historical Works Georgian Bay
Flowerpot Island Lighthouses The Chi-Cheemaun Fishing Tugs
Lion's Head The Holy Land Australia Sold Out Editions
---
---