2008 RELEASES
THE ART OF KENT WILKENS

---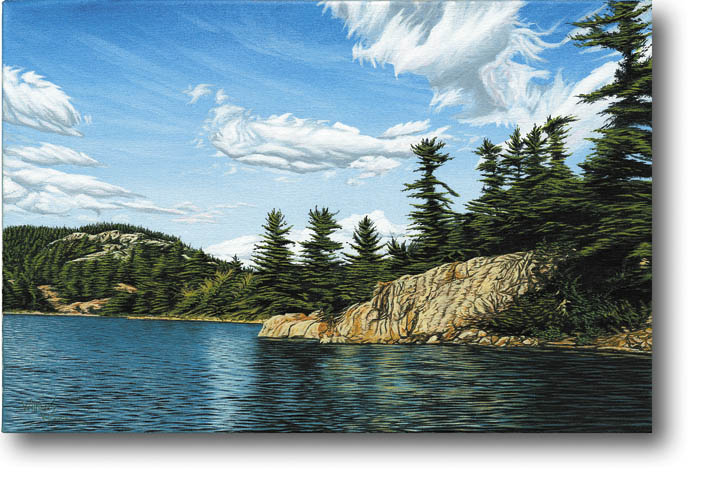 "Baie Fine" 250 s/n
Image Size 12"x18" on paper unframed $150
on canvas unframed $190
Framed Size 20"x26" on canvas framed $325
Framed Size 22"x28" on paper framed $345
Framed Size 22"x28" on canvas framed $345

---
"The South American" 250 s/n
The North & South American were passengers ships that cruised the Great Lakes for decades.
The South American was launched in 1914 and sailed until 1967.
The view is of the Bluewater Bridge with the Thomas Edison Depot at the base of the bridge as it was in the 1960's.
A piece of history that will bring back memories for many.
Image Size 12"x24" unframed $175
giclee on canvas $250
Framed Size 22"x34" framed canvas $415
Image Size 18"x36" on canvas $390
Framed Size 28"x46" framed canvas $670

---
"A Gallery View" 250 s/n
Image Size 3.5" x 3.5"
Image Size 3.5"x3.5" unframed on canvas $50
Framed Size 10"x10" framed $99
A very small view from the gallery, lots of detail, little brushes, a lot of time.
---
ORDERING INFO KentWilkens@aol.com 1-800-449-5921
---
---
In Progress New Releases Originals
Sunsets Tobermory Historical Works Georgian Bay
Flowerpot Island Lighthouses The Chi-Cheemaun Fishing Tugs
Lion's Head The Holy Land Australia Sold Out Editions
---