THE ORIGINALS

---
"Cave Point"
A spectacular morning view from Cave Point, between the Grotto and Halfway Log Dump.
Image Size 24"x36"
Original $12900
---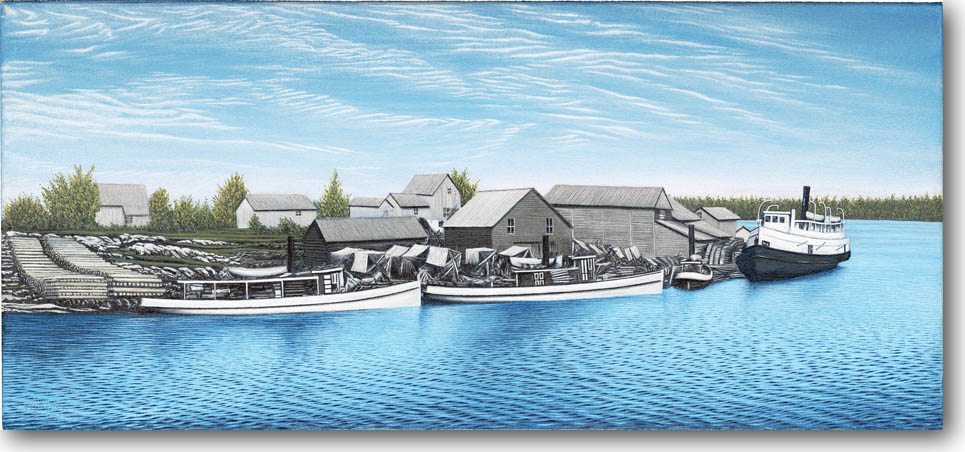 "Harbour Past"
a historical perspective of the harbour about 1925 showing the time when fishing tugs were the main source of income,
and this particular piece catches it when they have just begun experimenting with the "turtle" which makes the Great Lakes fishing tugs so unique.

Image Size 12"x26"

Framed size 22" x 36"
This work is acrylic $4900
---
"Morning Light"
Image Size 18"x24"

Framed size 28" x 34"

Original Acrylic $6000
---

"Grand View"
Original Acrylic 12" x 18"

$3400

---


"North Point Sunset"

The original is almost finished, projected completion is on or about the 4th of July, with prints available soon after that.

Acrylic Original, Framed $12900

Image size 18" x 48" Framed size 28" x 58"
Stunning layers of cloud and light.
---


"A Cottage View"
Original Acrylic 12" x 18"

A calm day at the cottage

$3600
---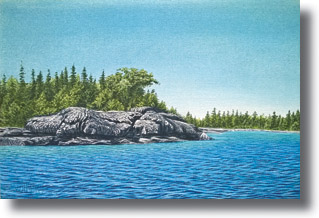 "Cove Shore"
Acrylic Original 6"x9"
$1200 Framed

SOLD

A unique rockface on the east side of Cove Island. I was going to call it "snoopy" but deferred to my usual descriptive titles.
---
"Merri Island"

Image Size 12"x18" $3600

The smaller island where the Merri River meets the ocean at Stingray Bay, Warrnambool, Australia. My kids favourite swimming spot is just to the right.


---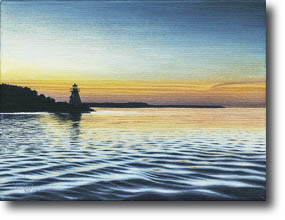 "Lion's Head Sunset"

image size 9" x 12"

$2200

SOLD
Original Acrylic on canvas.


A quiet sunset looking at Lion's Head Light looking north.


---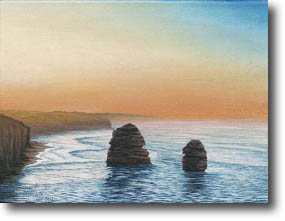 "Great Ocean Road"

Image Size 9"x12" $2200

SOLD
Original acrylic on canvas.


The Great Ocean Road on the south coast of Australia with two of the twelve Apostles in this magnificent sunrise.
---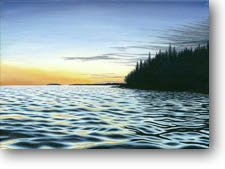 "Huron Twilight"

Image Size 10"x14" $2400

A tranquil late summer sunset in Cape Hurd channel looking from the southwest corner of Russell Island across Devils Island Channel to Cove and Turning Islands.

Oily water is always fun to paint, capturing the nuances of the reflections and patters and the softness of it.

SOLD
---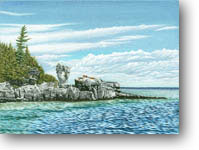 The Small Flowerpot

A view of the small flowerpot on Flowerpot Island. The first painting Kent has done of the small flowerpot by itself.

Image size 9" x 12"
Framed original 19" x 22"
$2200

SOLD
---
"Commanding View"
An inspiring view of Mt. Sinai from Jebel Katrina, 6 kilometers to the west. The artist and his 2nd oldest daughter travelled there
in 2009 to climb 4 mountains in 4 days. This view was accessed through a deep steep valley climing thousands of feet above the
valley floor. The ascent and descent was a total of 32 hours from one supply point to the next, the chief difficulty being the
ability to pack enough water, food and gear for that time frame, no sherpas, no camels, all on your own back climbing
broken granite during the day in 35 degree Celcius heat. Most will agree the trip was worth the trouble.

Across the top is the Ten Commandments in ancient Hebrew with English across the bottom.
the Original 18" x 48" $12000

---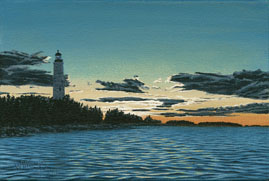 "Cove Island" 250 s/n
Acrylic Original

Image Size 6"x9" framed $1200
Sold


---
"Tenth Street Bridge"
16" x 12"
$3400
---
"Passing"
The O.P.P. launch "H.H.Graham" sitting serenely in the foreground with the Chi-Cheemaun sliding along in a fog bank in the background.
A moody, peacefully captivating scene. "Passing" best exemplifies the use of thin washes to build a painting while maintaining a balance of light.
Image Size 24" x 36"
Framed Size 33" x 45" $15000
Sold
---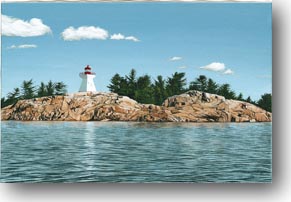 "Killarney, Red Rock"
18" x 12"
SOLD
---
"Coming Home"
Image Size 6"x9"
Framed Size 15"x19"
SOLD
---
"Ferndale Flats - January"
9" x 6"
SOLD
The Ferndale Flats in January, a memorable view for many on the peninsula.
Some would consider this piece to be impressionist, even minimalist, but in reality its High Realism.
No, it was not done "on site" but is one of the few works the artist has done totally from memory.
---
"Southampton Sentinel"
Image Size 6"x9"
SOLD
---
available

"Summers Eve"
9" x 6"
SOLD
---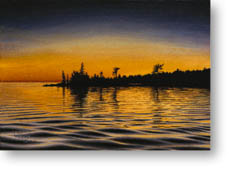 "Last Light"
10" x 14"
SOLD
---
"Running Deer"
12" x 18"
SOLD
---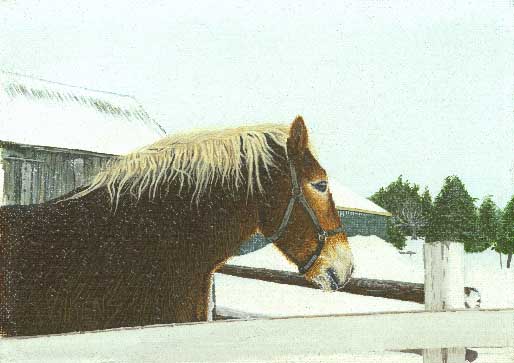 "Lee"
Image Size 5"x7"
Framed Size 14" x 16"

SOLD
---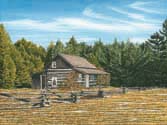 "Pioneer Autumn"
Image Size 9"x12"

Framed Size 19" x 22"

SOLD
---
"Winter Barn"
Image Size 6" x 9"
SOLD
This scene typifies the central bruce peninsula in the winter time.
The painting will be issued as the greeting card for the Bruce
Peninsula Hospitals foundation in December of 1999.
An open edition print has been released.
---

"Pot Crook"
Image Size 6" x 9"
SOLD
Having known this particular rock formation since a very young age, it was only a matter of time before the artist put it to canvas. "Pot Crook" is at the entrance to a little inlet off Hay Bay, known locally as "Pot Crook". The uniqueness of this glacially carved rock allows it to stand out in an area teeming with interesting rock formations.
---
ORDERING INFO KentWilkens@aol.com 1-800-449-5921

prices are in Canadian dollars

---
---
In Progress New Releases Originals
Sunsets Tobermory Historical Works Georgian Bay
Flowerpot Island Lighthouses The Chi-Cheemaun Fishing Tugs
Lion's Head The Holy Land Australia Sold Out Editions
---
---
---